Biography
Vanessa Marcil looks outstanding without makeup. Below, the model is pictured with little to no makeup on her face.
Vanessa was born October 15, 1968 in Indio, California. She has Mexican, French, Italian, and Portuguese ancestry. Hence her exotic sexy appearance. You probably know her as Brenda Barrett on General Hospital and Gina Kincaid on Beverly Hills, 90210. Later, Marcil played Sam Marquez in TV series Las Vegas, where she occasionally were very revealing dresses that made her bra size and shape stand out.
No Makeup Pictures
Vanessa Marcil is looking lovely when she is makeup-free. Check out her natural beauty and splendid skin.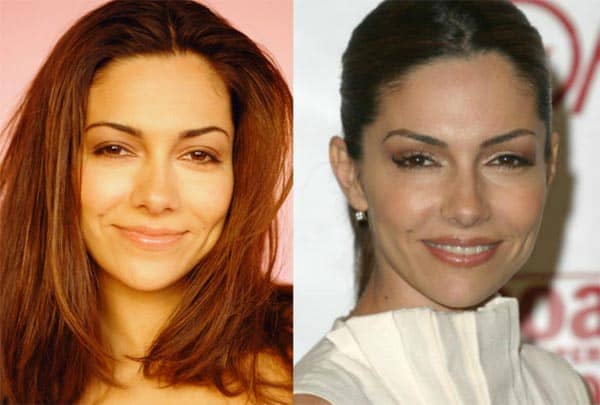 What is makeup? Well it includes products such as: cosmetics, foundation, powder, rouge and blusher. Other examples are: concealer, lipstick and mascara.
Inspirational Quotes by Vanessa Marcil
I don't get this whole super-skinny obsession. I really think women look more beautiful when they let their curves show.

Vanessa Marcil
I eat whatever I want, junk food included.

Vanessa Marcil
I'm not ready to be a woman yet, I'd like it if my body were more boyish. Maybe I'll like my curves when I'm older but right now they kind of make me squirm.

Vanessa Marcil
Acting probably saved my life. It gave me a home and a safe place to let out all of my emotions and have it be okay.

Vanessa Marcil
What makes a woman beautiful is her loyalty to and her friendships with other women, and her honesty with men.

Vanessa Marcil